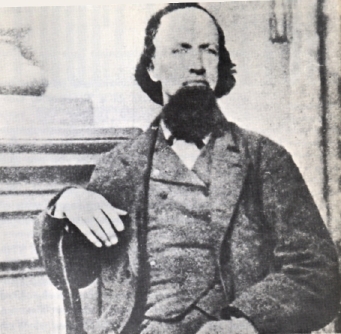 Robert Williamson Steele
Governor provisional Territory of Jefferson and pioneer of Mt. Vernon
Courtesy "Jefferson County Colorado: The Colorful Past Of A Great Community" by Sara E. Robbins
The provisional government of Jefferson Territory was a popularly elected government formed by citizens of the gold mining region in 1859 in lieu of federal recognition of this place. On November 28, 1859 the government created Jefferson County, one year to the day after its area's first gold mining district was created, to govern the locale including Arapahoe City, Golden City, Golden Gate City, and Mt. Vernon. Jeffco was created along with other counties including the original Arapahoe County, and its borders spanned from the 40th parallel to the north to Bear Creek on the south, from the South Platte River to the east to the high mountains on the west. Jeffco's earliest officials were appointed late in 1859, and its first election was held on January 2, 1860. Mt. Vernon did not run for the county seat, but would soon rise to an unofficial position of importance to the region.
On November 22, 1860 the Jefferson Territorial legislature voted to move the Territorial capital from Denver to Golden City, citing Golden City's more central location within the gold mining region. The legislature proceeded to hold its first session in the front room of the Mt. Vernon House. It was an opportune place considering that Governor Steele lived at Mt. Vernon, and he kept the Territorial legal documents in the crown of his high silk hat. Mt. Vernon in a way had become a de facto capital of the gold mining region, likely sharing the honor with the actual designated capital of Golden City.
However, the extra-legal nature of the Jefferson Territorial government and its counties led to continual tension with citizens, many of whom did not wish to recognize any government without federal backing. In early 1861 Mt. Vernon and other districts "seceded" from Jefferson County and Jefferson Territory to form their own equally extra-legal government, Ni Wot County, in defiance of the provisional government. Steele and other loyalists then seceded from Mt. Vernon to form a competing town and wagon road of their own, but on February 28th Congress created Colorado Territory and the region was firmly organized at last. In June of 1861 Steele gracefully surrendered the reins of government to the newly appointed and federally recognized Governor, William Gilpin.