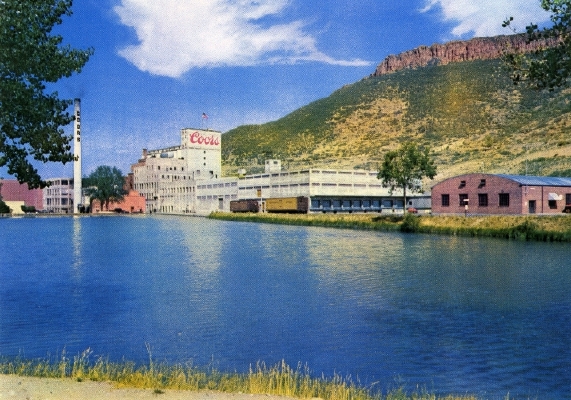 Coors Brewery in the 1950s
Courtesy Gardner Family Collection
From the beginning Golden has been widely known for its industry, drawing from its natural and human resources to achieve global industrial worth. In the 1870s Golden had 5 smelters running at once: the Trenton, Golden, Malachite, French, and Valley works. The city has also had 4 flour mills: the Golden, Brick, Rock, and Binder mills. The Colorado Central Railroad built in the 1870s was the first railway into the Colorado mountains. The Golden Paper Mills established in 1867 was the only paper mill west of Missouri, a green industry partly water powered making paper from discarded rags and straw. From 1867 to the 1930s coal mines including the Black Diamond, Pittsburg, and several named White Ash fueled the region's homes and businesses. Clay such as the Parfet, Rubey and Hoyt quarries has been mined around Golden for virtually all of its history, helping make pottery, porcelain, bricks and tile. Golden's brickmaking industry, including the Golden City, Cambria, Dillon and Golden Fire Brick works, lasted for nearly a century, shipped as far as China and made material for many prominent area landmarks. Jolly Rancher candy was began by Bill and Dorothy Harmsen at 1113 Washington Avenue in 1949 and is now known around the world. The Coors industries, began with the brewery in 1873 and also with porcelain in 1910, have achieved global reach and renown. Golden was historically called the Lowell of the West for its industry, and it continues forward in that proud legacy.