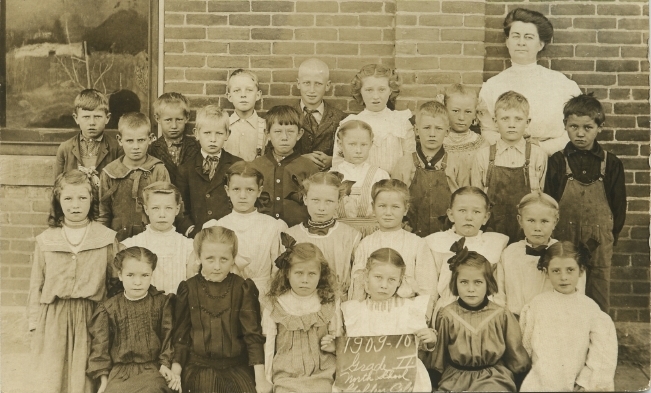 North School 2nd Grade, Class of 1909-10
Courtesy Gardner Family Collection
The 2nd school in Colorado was established at Golden on January 9, 1860, taught by Thomas Dougherty in a log cabin around the southwest corner of today's 13th and Washington. This soon became Golden School District #1 of Jefferson County, later consolidated into the Jefferson County R-1 School District, and Golden's children continue to learn and prosper today. For many years they were taught at Golden's North and South Schools, and later at the Central School which was renamed after Roger Quincy Mitchell, who spearheaded building it and Pleasant View Elementary and helped spearhead the R-1 District. Today Golden schools are also named for pioneer North School teacher Gertrude Wheeler Bell, early music teacher Earle A. Johnson, and artist Hal and Mary Shelton. Golden High School, established in 1873, holds claim to being the oldest high school in Colorado, which recently built its 4th home. Golden had been home to 3 institutions of higher education. Bishop George Maxwell Randall and the Episcopal church established the Colorado University Schools campus, housing Jarvis Hall liberal arts college (opened 1870), the Colorado School of Mines (opened 1873), and Matthews Hall divinity school (opened 1872), of which Mines remains today. Fully acquired by the Territorial government in 1874, it is Colorado's first and oldest state owned institution of higher education, and has achieved renown around the world as one of the foremost collegiate institutions of its kind.