---
Research | Preservation | Architecture | Designations | Recent Past | Information
Historic Calendars | About Us
| Home
---
Preserving the

Recent Past

Just because it's not OLD doesn't mean it's not important! History happens all the time, and there are many younger landmarks out there not yet 50 years old that can and should be preserved for the same reasons their older counterparts are. Younger landmarks of the recent past range from Googie-styled coffee shops to Modernist skyscrapers, from Cold War missile silos to Expressionist houses, from roadside motels to funky bowling alleys. The National Historic Register and other designations allow for the recognition of younger landmarks, and there are many ways we can research and preserve our recent past. After all, if we don't preserve younger landmarks now, what will be left for future generations to appreciate?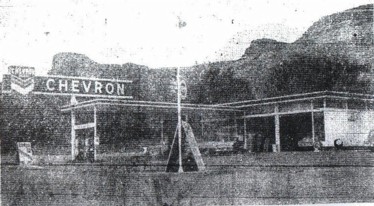 Oasis Service Station (1958), 2321 East Street in Golden (from Colorado Transcript)
Designated contributor to East Street Historic District on September 9, 2004
Gardner History & Preservation offers a wide range of services to help you preserve your landmark of the recent past. These include research especially geared to establishing the historical context needed to objectively prove a place is important despite its younger age, knowledge of modern architectural styles and movements, guidance in how to successfully navigate special rules designating authorities set for recognizing younger places (such as we did for the Oasis Service Station above), and more. We can advise you on how to preserve and restore your buildings as well, from appearance to the materials you choose and beyond.