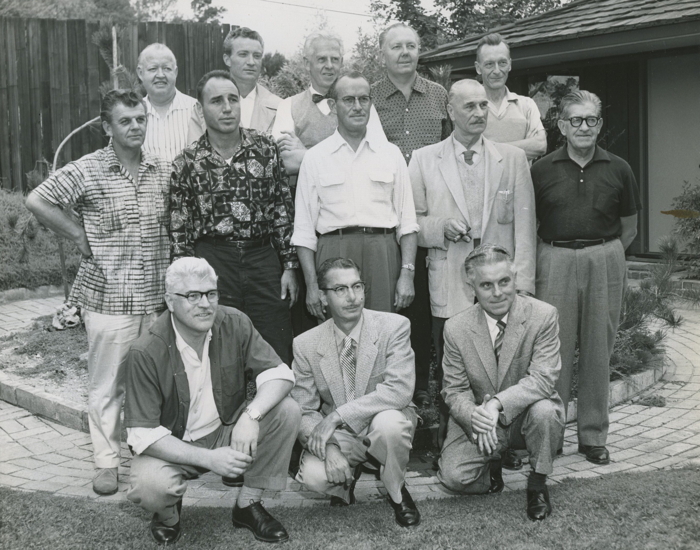 Shown above, in a photo taken at Los Angeles on September 18, 1957, is Marco Engineering's design team for Magic Mountain, led by art directors Wade B. Rubottom and Dick Kelsey. In the photo, from left to right, going from top row to bottom row, are: Allan Abbott, Frank O. Barnette, Robert Stahler, Glen McComas, Roland Hill, William Dreis, Jerome Bowen, Theodore Ang, Joseph Babolnay, Harry Johnson, Dick Kelsey, John J. Thompson, and Wade B. Rubottom.
These artists set up their studio inside the historic Bailey Mansion at 1600 Ogden Street in Denver (now home of the Sawaya law firm). Inside the ideas and dreams of Magic Mountain were born. Their design process under park manager Howard Vineyard, according to the Denver Post, proceeded like this:
"Ideas flow like water at Magic Mountain headquarters, 1600 Ogden St., Denver. Suppose Vineyard has an idea for a fire house on the village street. Artists vie with each other in creating the house in charcoal or pastels. Research is done on equipment and building styles. Every bit of information is pooled and studied and eventually the idea takes shape in a final drawing."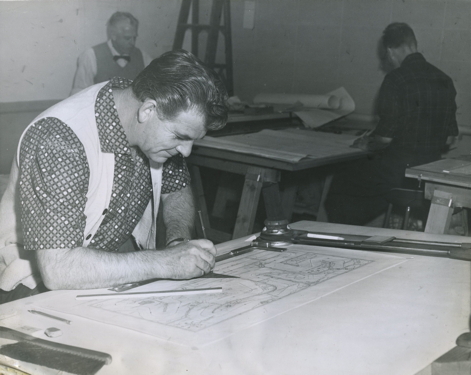 William Dreis (foreground), Robert Stahler (background, facing camera) and Theodore Ang (back turned), at work
Wade B. Rubottom was a veteran of MGM, who worked for 3 years as a set designer and as associate art director on a number of films including The Philadelphia Story. Afterward he became Chief Draftsman at Walter Wanger Productions. A graduate of the Princeton University's College of Architecture, Rubottom worked for Walt Disney's private design firm, WED Enterprises, in 1954-1955 as an Art Director for Main Street USA, the downtown of Disneyland. His name is in one of the windows there today. Later Rubottom designed Freedomland. Rubottom was the author of at least 2 books and many published short stories.
Richmond "Dick" Kelsey was a 12-year Disney veteran who was Art Director for Pinocchio, Dumbo, Bambi, and the "Rite of Spring" segment of Fantasia. He was also background animator for Bedknobs and Broomsticks and writer for Alice in Wonderland. Kelsey graduated from the Otis Art Institute and Art Center School in Los Angeles and in the 1930s became a noted watercolor artist, which he took with him into helping create movies at Disney. Kelsey served in the United States Marines 1st Marine Division at Mt. Martha, Australia during World War II. He served under Col. Frank Capra of Hollywood producing fame, who latched onto him to help produce the Army orientation series. Capt. Kelsey commanded the relief mapping unit in the South Pacific during World War II. After the war he returned to Disney and continued creating noted films there, as well as work on Main Street USA at Disneyland. Kelsey also was illustrator of books for Simon-Schuster Publishing Company for 10 years. Protege Ron Dias, who worked on Sleeping Beauty and many other films, described his beloved mentor in one word, "Geppetto", for his appearance, mannerisms, and work ethic were much like the character. Dick Kelsey died in 1987 ultimately from the toxic fumes of the substances used in his animation work.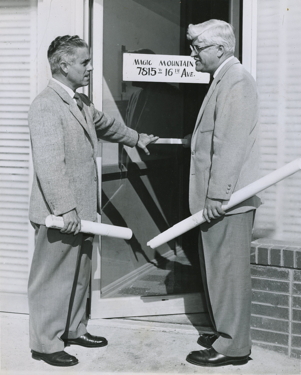 Wade Rubottom and Dick Kelsey at later 16th Avenue studio
John J. Thompson had 15 years of experience at MGM and other Hollywood movie studios. He had also attended the Harvard University School of Architecture.
Allan Abbott was an uncredited assistant art director for Around the World in Eighty Days. He also did uncredited art work on Citizen Kane.
Roland Hill, a career short films art director, also did uncredited art work for 20,000 Leagues Under the Sea and was an uncredited assistant art director for April in Paris.
Magic Mountain's story is not done justice, however, without also mentioning the famous historic company Heritage Square keeps. Some of Marco's team had only worked on Disneyland for Disney before Magic Mountain. Others, like Dick Kelsey, had been veterans of the company. As with many other Hollywood employees who worked in art and animation, they shuttled back and forth between different employers and job to job, not being assigned to long term contracts. Another art director named Randall Duell, who had worked at MGM for such films as Singing In The Rain, joined Marco as well. During the late 1950s, riding on the heels of the success of Disneyland, a whole regional theme park movement swept the nation, with Marco Engineering among its prominent builders. Other theme parks Marco designed and built beyond Magic Mountain were Freedomland in the Bronx of New York City, and Pleasure Island at Wakefield near Boston. Marco began the design work of Six Flags Over Texas in the Dallas/Ft. Worth area, which was taken over in 1959 by Duell. He completed Six Flags, which became a wild success as the second wholly successful theme park in the country. This gave rise to the industry with the knowledge Disneyland's success could be duplicated by others, and Duell became famous across the globe as one of the foremost theme park designers in history, including the famous Magic Mountain in California.