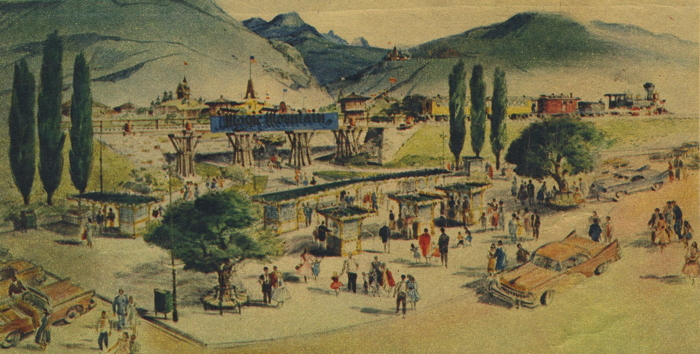 Above is the original artistic illustration of the entrance to Magic Mountain. Natural scenery was paramount to the concept of Magic Mountain, which called for integrating itself into its natural setting at a mountain site. It incorporated natural landforms such as a red rock formation and even created new natural landforms like a lake to realize its vision.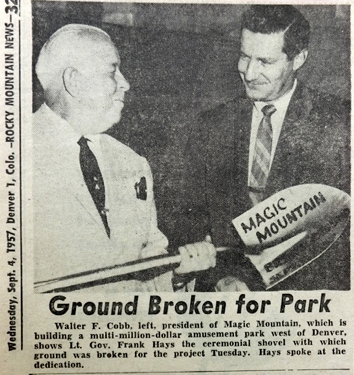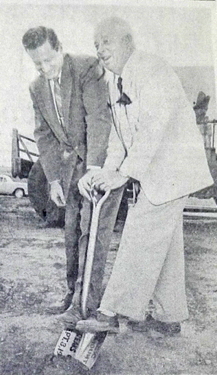 Ground was broken at Magic Mountain on September 3, 1957, with President Walter Francis Cobb and Colorado Lt. Governor Frank L. Hays Jr. jointly digging the first ground. The entrance area would be finished in 1959, where elements such as the railroad trestle and Victorian spires familiarly greet visitors today. Magic Mountain's theme: A re-creation of the Old West of the year 1858. That was the year of the first permanent settlement in Jefferson County: Arapahoe City, just east of Golden on Clear Creek, and only 3 years ahead of the settlement of Apex.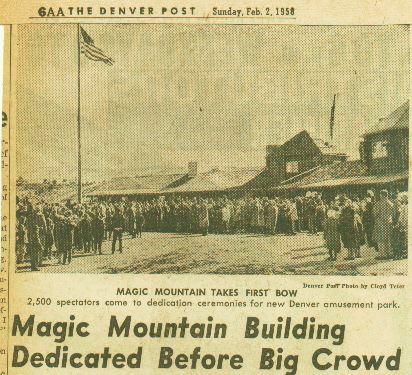 2,500 people gathered to witness the dedication of Magic Mountain's 1st buildings on February 1, 1958. The Cavalry Post and companion Stockade, located just south of the entrance, were dedicated "in memory of the U.S. Cavalry" in the presence of more than 50 mounted horsemen and horsewomen, including the Lakewood Westernaires, Buffalo Bill Riding Club, Thunderbird Riding Club, and many more. Among the political digniaries was Mayor Clark Carpenter of Golden. It was truly a momentous occasion, the first piece of a new theme park. For all visitors the Cavalry Area and its buildings made of logs were the first part of the theme park they passed through. Its purpose was explained by Magic Mountain:
"History shows that the U.S. Cavalry opened the West to civilization; made this area safe for pioneers to move here, settle here and build their homes here. It was the Cavalry Post through which early settlers entered the West and founded settlements that later became villages, towns and cities. Magic Mountain designers are saluting the Cavalry in their planning for the Park. The first thing planned for you to see when you enter the site are parking lot attendants dressed as Cavalrymen; the first thing you will see upon enterting the park itself will be an authentic reproduction of a Cavalry Post and Stockade. Visitors to Magic Mountain will progress from the Cavalry area into a proposed reproduction of a western village, much the same as early settlers were able to go into similar villages because their passage was made safe by the Cavalry."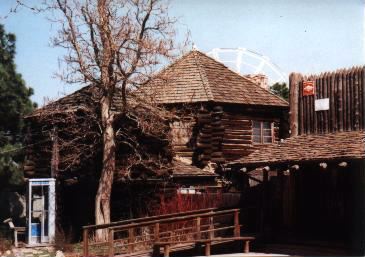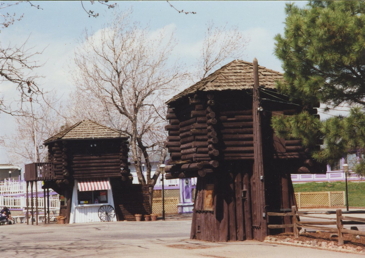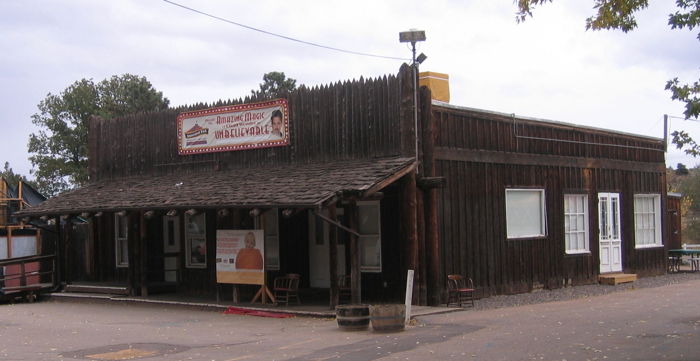 Constructed of native logs, the Cavalry Post served as the administration center for Magic Mountain. Next to it stood the Stockade, which served as a shooting gallery and gift shop. Nearby on the west end of the entrance area were constructed twin log Blockhouses, of the type once used on the frontier for shelter from raids.